"Hearing Other People's Experiences"

Location: Vestry Room

, St. Paul's Episcopal Church (see below)
Tuesday, April 3, 10:00 am HOPE

Prospective or new hearing aid users can share their experiences, questions, and hearing loss journeys in an informal roundtable discussion. 
Retired audiologist and hearing aid user Joseph Kozelsky facilitates.
Chapter Meetings take place in the Parish Hall

What's all the NOISE about?  

 Dr. McNamara discusses the effect of noise in overall communication for those with a hearing loss as well as others with normal hearing.
Presenter:
  John J. McNamara AuD
Daytime Meeting 11:00am, Tuesday April 3

​​Leveling the playing field: Know what you need and how to get it at work.​​

Healthy Living with Hearing Loss (HL2) has  identified the "workplace" as a primary area of concern
Presenters:
Mary C. Chizuk, RN, MS Ed and Jeremy Charette 
Evening Meeting  7:00pm, Tuesday April 3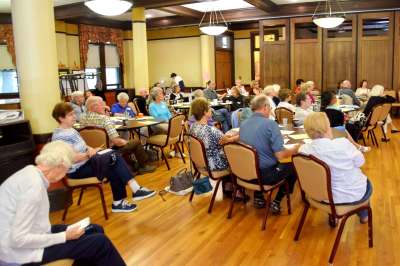 Chapter Meetings/Support Sessions are are held at St. Paul's Episcopal Church, 25 Westminster Road
Rochester, New York  14607 the first Tuesday of the Month October through June.

September's meeting is held on the second Tuesday.

HOPE

meetings are held in the Vestry Room, Chapter Meetings in the Parrish Hall. Please Enter only through Westminster Rd. door.
Weather Note: Meetings are cancelled when: 1. Monroe County issues a ban on unnecessary travel;

and/or

,
2. The Rochester City School District closes

and/or

cancels afternoon activities;

and/or, 

3. The wind chill is at / or below -20 degrees.